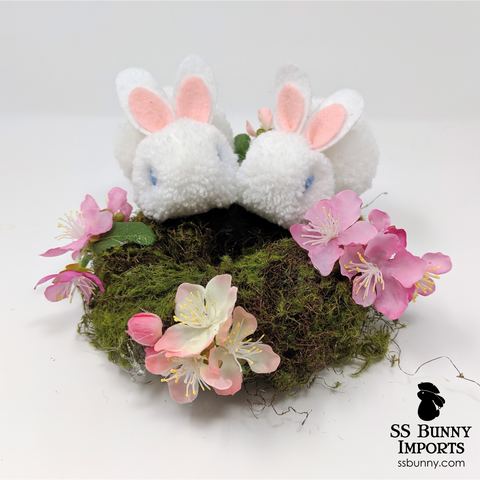 Blue-eyed white pom pom bunny wreath - 8"
PP202
---
Description
A cute pom pom bunny wreath that looks great as a centerpiece on any desk! You can also tie some string around one side to hang it up as wall decor instead.
8" wreaths include two pom pom bunnies.
Pom pom bunny information
Our pom pom bunnies are handmade with acrylic yarn, waxed thread, felt, and glue. The wreaths are hand-assembled with styrofoam, fake moss and flowers, and glue. Please allow for a slight variability in wreaths due to their handmade nature.
WARNING: Not a toy for children.
Learn how to make our unique style of pom pom bunnies by purchasing our PDF here!
See our FAQ for additional common questions about our pom pom bunnies.
Copyright information
Product images, Copyright © 2023 SS Bunny Imports. All rights reserved.
This product is an original design and copyrighted by SS Bunny Imports. All sales are for listed goods only, and SS Bunny Imports retains all reproduction and derivative rights for use of any original artwork sold.
Please see our FAQ for common questions about copyrights and licensing with regards to our original artwork.
---
Related products
---