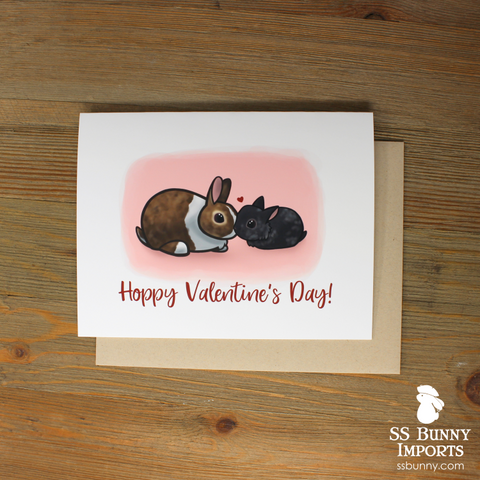 Hoppy Valentine's Day card - agouti Dutch & silvered dwarf
CD03-RD01
---
Description
This listing is for a single blank 5.5"x4.25" card of an agouti Dutch rabbit with a silvered dwarf rabbit with the words "Hoppy Valentine's Day" and a matching kraft brown envelope.
Card information
Our cards are printed on a 60 lb acid-free matte paper and are individually packaged with their matching envelope in a plastic sleeve.
Copyright information
Product images, artwork, and design, Copyright © 2019 SS Bunny Imports. All rights reserved.
This product is an original design and copyrighted by SS Bunny Imports. All sales are for listed goods only, and SS Bunny Imports retains all reproduction and derivative rights for use of any original artwork sold.
Please see our FAQ for common questions about copyrights and licensing with regards to our original artwork.
---
Related products
---