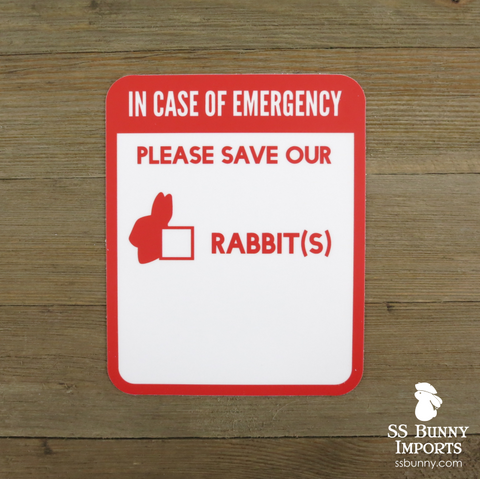 Please save our rabbits, in case of emergency sticker
ST01-R
---
Description
Ball-point pens and permanent markers work best when writing on the sticker. Depending on the type of ink used, please give the ink a chance to dry before using.
Product dimensions: 4" W x 5" H
Heavy-duty vinyl sticker information
Our heavy-duty rabbit stickers are printed by a third-party manufacturer on a thick durable vinyl and feature a matte UV-resistant coating that makes them waterproof, weatherproof, and scratch-resistant. These stickers are dishwasher-safe and can be applied on water bottles, cars, and laptops with no worries.
See our FAQ for additional common questions about our vinyl products.
Copyright information
Product images, artwork, and design, Copyright © 2017 SS Bunny Imports. All rights reserved.
This product is an original design and copyrighted by SS Bunny Imports. All sales are for listed goods only, and SS Bunny Imports retains all reproduction and derivative rights for use of any original artwork sold.
Please see our FAQ for common questions about copyrights and licensing with regards to our original artwork.
---
Related products
---