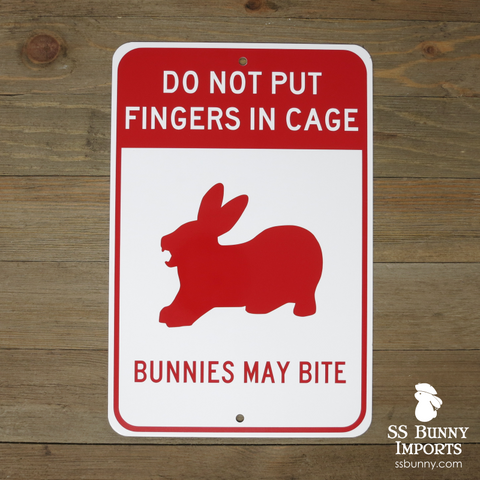 Bunnies May Bite sign
AS111
---
Description
This sign will assist in notifying children and adults to keep their hands away from your grumpy bunnies!
Product dimensions: 6″ W x 9″ L / 15.24 cm x 22.86 cm
DO NOT PUT FINGERS IN CAGE
BUNNIES MAY BITE
Aluminum sign information
Our handmade signs are made with hand-applied glossy vinyl art on 0.040" gauge white anodized aluminum with hand-rounded corners to prevent injury. Two 3/16" (4.76 mm) centered holes on the top and bottom 7/16" (1.11 cm) away from the edges have been punched for easy installation. The waterproof and rust-proof sign can be displayed indoors or outdoors. Vinyl is rated for up to 6 years of outdoor durability. Graphics designed and cut in-house. Slight variability in size and alignment, up to 1/8" (3.18 mm), and a slight bend in hand-rounded corners are to be expected.
See our FAQ for additional common questions about our vinyl products.
Copyright information
Product images, artwork, and design, Copyright © 2018 SS Bunny Imports. All rights reserved.
This product is an original design and copyrighted by SS Bunny Imports. All sales are for listed goods only, and SS Bunny Imports retains all reproduction and derivative rights for use of any original artwork sold.
Please see our FAQ for common questions about copyrights and licensing with regards to our original artwork.
---
Related products
---